This case study explores how Mo.net can be used more flexibly than initially imagined. Although Power BI seemed to be the correct solution for this redress project, Mo.net proved to be a far more efficient solution.
The Problem
We received substantial data regarding loan transactions for a validation project where the customers, usually companies, were taking out large loans with terms of less than two years. During the loans, customers would take out additional loans or would pay off their loans at different times to the original payment schedule.
All the customers' data was stored in a file containing the transactions for each customer. This meant there needed to be interactions between records in the file to correctly calculate interest.
The Original Solution
With over 50,000 rows of transactions and some interdependency between records, Power BI was initially chosen to do the work, and a model was constructed.
However, the interdependency between the rows was causing difficulty looking up tables. Having essentially the same data being explored multiple times, the model was being slowed down. With each change requiring testing, it would take a couple of minutes to run each time.
Using Power BI was becoming more and more difficult as the project continued. As the rules and exceptions in the transactions became known, the model was struggling to perform the calculations both accurately and quickly.
The Mo.net Solution
Since Mo.net has been traditionally used for individual policy/model point calculations, it wasn't immediately thought of for this project. However, this opportunity gave Mo.net the chance to demonstrate its flexibility.
The Mo.net model was able to dynamically link the transactions for each customer. Further, they were able to be accessed on a customer-by-customer basis using a specific Mo.net feature, which was set up in just a few minutes.
From there, the model of the transactions was developed and run — the whole model could be run in just a few seconds, and the impact of the results shown on-screen across all transactions.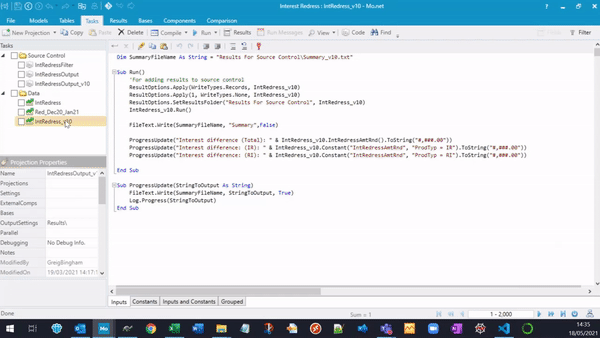 As the project defined more complex rules, the model was able to add additional variables to cope with these quite easily. All model changes could be traced back using source control.

Additionally, the full transaction method could be output into one file, which could be passed to the client for individual testing and sign-off.

Download our case studies brochure to read more about how our clients have leveraged the flexibility, power and integration potential of Mo.net to deliver fit for purpose solutions.
Was this article helpful?